You know you want it. You recognize the unsurpassed design statement that an aquarium will bring to your space. But where do you go from there? Size? Location? Type? Cost? So many questions. In many spaces, the answers are obvious. In others, it may require a little creative vision.


With our long history of awesome custom glass and acrylic aquarium installations, we at Aqua Creations relish the challenge. And as custom aquarium designers, our fish tanks must encompass every type, shape, and design element in existence. Our aquarium installation consultants are comfortable working both directly with you, the client, or with your interior designer or architect. Throughout the planning phase, we will help you imagine all of the various angles of view, possible dimensions, desired impact on the space, and of course, the types of fish and décor you'd like to incorporate into the project design.
Are you a lifelong hobbyist with very definite opinions on everything aquatic? Or, maybe your experience with fish only goes as far as the plate. If you find yourself fitting into the second category, would you like to learn more about your aquarium and its livestock or leave everything to us and sit back and enjoy? Whatever paradigm best describes you, feel comfortable that we speak your language. At Aqua Creations, from the top down, our knowledge, experience, and success has not gone to our heads. Although we are obsessed with our aquatic technology and science, we love people and value our long-term relationships with our clients, above all else.
It's all in the details and here's where we rise above the pack. It's one thing to have a wow factor on opening day; it's another to maintain that level one, two or three years down the road. How do we do it? By designing an aquarium system that is built to last! Only the very best components go into our systems. We won't cut corners with inferior quality tank filtration components, even though they cost us more.

Many of the parts we use are custom made here in the USA for quality and to match your space requirements. Our LED lighting is cutting edge, both in quality and controllability. We search the world for quality aquarium interior decor that will showcase your livestock. Whether the look is Indonesian live rock, custom made reef inserts or Amazon plants and driftwood, we will create a piece of living art.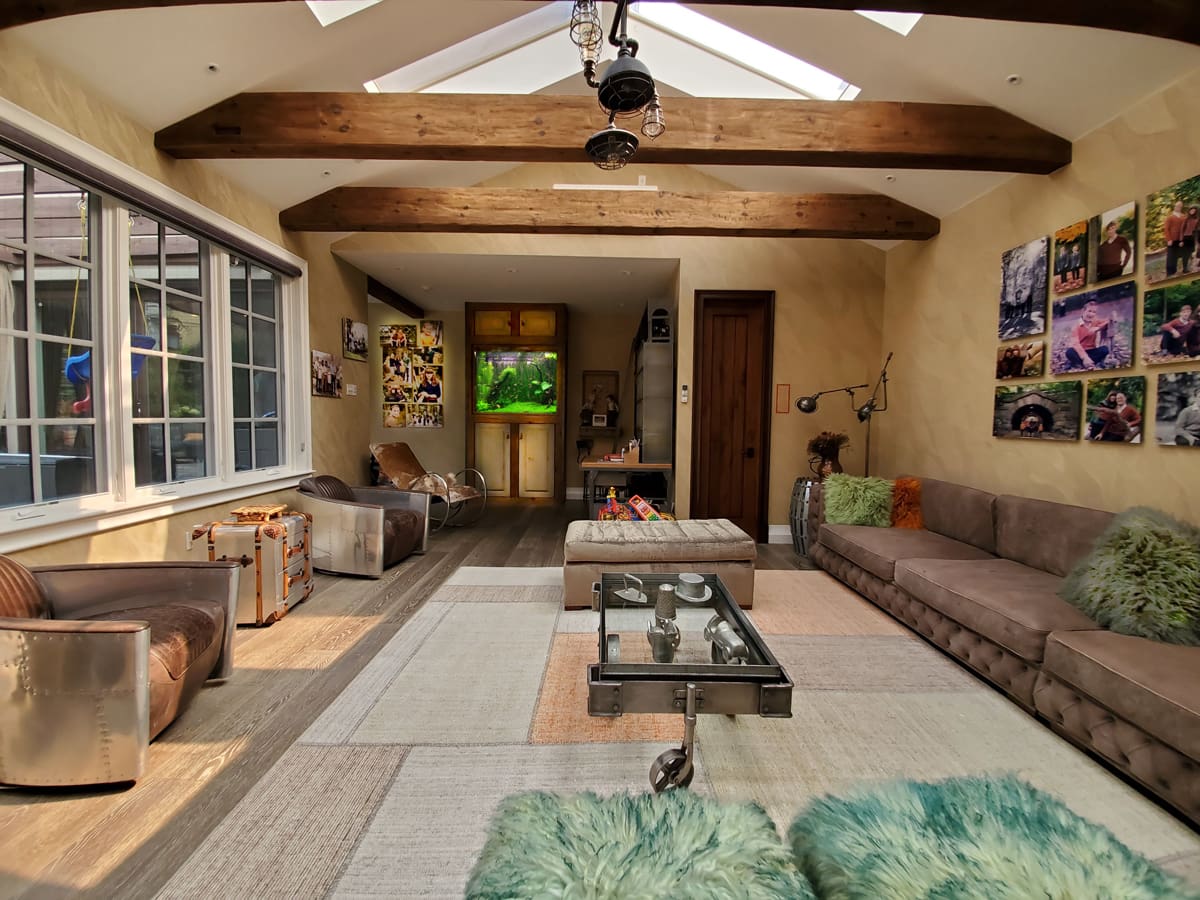 Glass or Acrylic Aquarium?
Traditional beauty takes center stage with a glass aquarium by Aqua Creations. With optional Starphire glass, we can build a glass aquarium that is over 99% optically clear, in almost any shape or size. Or, you can enjoy the many advantages of choosing a custom acrylic aquarium. Clear corners, fluid shapes and oversized aquariums are all made possible by acrylic construction. Lighter and stronger than glass, acrylics open up a new world of possibilities for aquarium designers.

The options are plenty, the choice is yours, and the outcome is based on your unique requirements. Whatever your choice, at Aqua Creations we have you covered. We will never skimp on the thickness or quality of our glass and acrylic. Our aquariums are overbuilt—and for good reason. Acrylic aquariums can and do bow, creating refraction if not built to proper specifications. Glass aquariums also need to be constructed properly to assure a lifetime of safe, worry-free usage. With our experience and passion for perfection, every fish tank we produce is a masterpiece of both quality and beauty.
We invite you to give us a call and set up a consultation to meet and discuss your custom design project.