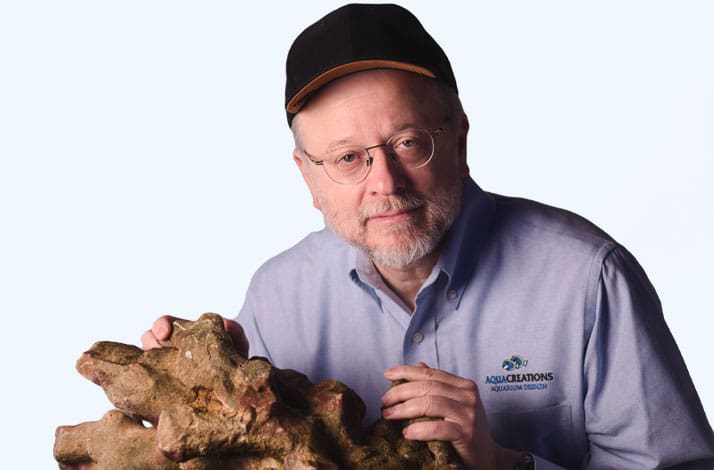 Back in '02, after well over 30 years of involvement in every aspect of the aquatic hobby, our founder and head of operations, Sol Bick succumbed to his desires and left a very successful computer programming career to start the company of his dreams – Aqua Creations.

Sol was frequently asked to lend his expertise to save aquarium systems that were failing due to improper planning and inadequate equipment. His desire was to set the focus of the company on long term success. It wasn't enough if the system looked great on opening day. It had to look even better at the ten-year mark.
Sol's obsession with anything aquatic started at the age of five back in the days when metal-rimmed aquariums were the norm and the average fish tank consisted of guppies and mollies and continues up until today where sophisticated marine systems along with exotic reef corals are found in many a home and place of business. Sol does not let a day pass without researching and contributing to the field of aquatic science. This ensures that Aqua Creations stays current on the most updated technology and most up to date advanced equipment.

Even after over 50 years as a hobbyist and professional Sol's excitement and passion hasn't waned and there is nothing he enjoys more than after a full days work coming home and getting to work on his own aquatic systems. Truly in the full sense of the word a fish addict.
As the company grew added expertise was needed to manage the business and keep the wheels of efficiency and great customer service rolling. Jay Silber joined the company as a managing partner in what has proven to be a winning team. Under Jay's leadership, the company has grown exponentially and has achieved national acclaim as a can do and trusted group of specialists that will complete your project beyond expectations and be there for you, the client, for years to come.

Meeting Jay on an initial sales call will give you that warm confidant feeling that you are dealing with the real deal. His command of facts, total integrity and ability to help guide you, the client on all aspects of the project will give you that relaxing feeling that your future aquarium system is in the hands of an expert.
How do you describe someone who does a lot of almost everything? I guess that would be the way to describe Aaron. He runs virtually every aspect of the office operations from aquarium maintenance scheduling to livestock and product ordering to client relations. He also has golden hands and is a key component on every one of our hundreds of installs.
You guessed it. He's Sol's son and they are as different as fire and water. But when they aren't butting heads, Sol is quite pleased having such a great guy as a son and employee.
When Sage walked in for an interview 10 years ago as a fresh faced 19-year old kid we realized right away that he was a gift from above. A true reef geek and an expert in everything reef, he's turned out to be a real blessing for Aqua Creations. We of course gave him our standard initiation test and when pricked, salt water came gushing out instead of blood. The rest is history. He is looked up to extensively by our staff who seek his guidance on all aspects of aquatic knowledge as well as by our clients who feel confidence when their aquarium is under Sage's care.
He's now happily married and divides his free time between his wife, his home reef tank, and his passion for deep-sea diving.
Erin came to us with an impressive background in the fast-paced food management industry. Most recently he was director of operations for the north east restaurant chain, Surf Taco, a position that required an ability to work hard and get things done right in a high stress environment. These are all qualities he continues to use here at Aqua Creations as a lead technician loved and appreciated by our clients and team alike. Erin does not do things halfway! His love of Aquatics brought him to us and his work philosophy has gotten him to the top here at Aqua Creations.
Michael is the energy station at Aqua Creations. Whenever an energy-passion boost is needed a small chat with Michael is all it takes. His unstoppable excitement energy and passion for his role at AC is contagious. His knowledge on both freshwater and saltwater aquatics is impressive and has helped solve many a tough issue. When not fishing in an aquarium Mike can be found fishing in his kayak in the lakes and streams of NJ, or on his bike out on the trails, passing everyone.
Brad joined AC already an expert in the aquatic retail industry. Most recently he managed 88 Pet World, a large full-service pet center in the heart of Point Pleasant, famous for its long history of quality service to the central Jersey community. His customer service experience along with his practical fish knowledge has proven to be a tremendous asset and it doesn't hurt that he is a great guy too. You guessed it, when Brad isn't at work, he is tinkering with all of his various aquariums and animals—a list too long for these pages.
Every company should have one. Jan is our resident clown, keeping us rolling in laughter just at the right moment. His magic show is awesome and so are his uncanny imitations of just about everyone. But seriously Jan is one of our very qualified aquarium installers and technicians, always ready to add his indefatigable energy and strength so needed in our servicing department.